Posted on April 23, 2014 by admin
For the Northeast section of the country the recreational boating season is here!  While taking time to get your boat ready, please take time to review the insurance with one of our agency professionals to make sure you have the coverage you need and want.
We have several companies that offer boat and personal watercraft owners and we can surely match the coverage you need with a competitive price.  See below for just ONE of the carriers coverage options and how they match up.
Pull out your policy and call us today direct at 215-340-1888 or contact us by email.
Posted in Boat Insurance, FOREMOST INSURANCE, Personal Watercraft Insurance | Leave a comment
Posted on April 07, 2014 by admin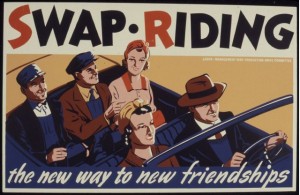 A friend shared an article with me about technology bringing people together for what is described as "carpooling" or "ridesharing" in urban areas.  This article is primarily focused on government regulation, but there is an important insurance aspect to examine:  business use of a vehicle insured on a personal auto policy.
These services market as "carpooling" however a closer examination of their websites reveals that they attract drivers by offering a business opportunity of driving people for a fee. See below screenshot for an example.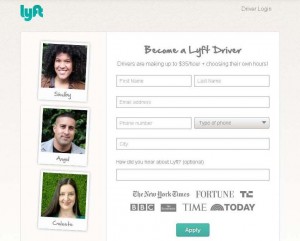 Under most personal auto insurance policies (PAP) there is an exclusion for carrying people or property for a fee, here is an example from Travelers Insurance:
"For that person's liability arising out of the ownership or operation of a vehicle while it is being used to carry persons or property for a fee. This exclusion (A.5.) does not apply to a share-the-expense car pool."
Based upon the websites for 2 of these companies, it would be argued (and probably won) by an insurance company facing a claim that this is an exclusion and no coverage is due.  This could leave you facing thousands (or tens of thousands) of dollars in damages to pay yourself from an accident.
In addition, it is quite possible that you could find yourself facing charges of insurance fraud which is punishable by fine or imprisonment, especially if your policy started after you began participating in one of these programs.  The technical term is "misrepresentation" because the company was not aware of the full measure of risk involved when it calculated the premium that you would have to pay for contracted coverage.
Call us today at 215-340-1888 for a free, no-obligation analysis of your current policy and your particular situation before you are between a rock and a hard place.
(Oh, and "carrying persons or property for a fee" also applies to pizza delivery! If you deliver pizza you could find yourself in the same boat- without coverage and facing fraud charges.)
Posted in AUTO CLAIMS, AUTO INSURANCE, INSURANCE FRAUD | Leave a comment
Posted on April 01, 2014 by admin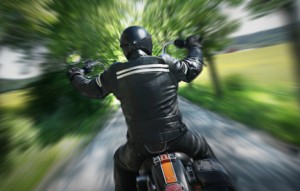 Myth: I only need state minimum coverage, if I crash I won't cause a lot of damage with a motorcycle.
Fact:  Just because your motorcycle may not do a lot of damage if it hits something doesn't mean that you won't cause an accident that causes a tremendous amount of damage.  Don't be pennywise and pound foolish!
Myth:  Cancelling my insurance during the winter months saves money and my bike is parked in my garage and is covered under my homeowners insurance if it stolen or damaged.
Fact:  Home insurance does not cover motorcycles, and you will probably pay more to buy a new policy in the spring with a lapse in coverage.  Also PennDOT will probably suspend your registration when they get notice from your insurance company that your policy cancelled- and this suspension doesn't start until you provide proof of new insurance.
Myth:  There is a CAT fund in Pennsylvania that will cover me in case I am badly hurt in a motorcycle accident.
Fact:  There was no coverage under the CAT fund in PA for motorcycle accidents, and this fund ended coverage on Dec 31, 1989.  There is no fund to pay for your injuries.  It is recommended you carry the highest limits of uninsured/underinsured motorist coverage that you can afford to carry and also first party medical coverage.
Myth:  If I stay with the same company for a long time they will take that into consideration if I have an accident or claim.
Fact:  There is no loyalty among insurance companies, every policy is judged on the history of the drivers according to underwriting guidelines.  Some auto insurance policies have accident forgiveness, but to our knowledge no motorcycle policies have this feature.
Myth:  My auto insurance will cover injuries or damage from a motorcycle accident.
Fact:  Motorcycles are specifically excluded from coverage under most auto insurance policies.
Ride Safe and call us for a quote today!  215-340-1888
Posted in MOTORCYCLE CLAIMS, MOTORCYCLE INSURANCE | Leave a comment
Posted on March 28, 2014 by admin
Agent: You made use of Travelers roadside assistance.  I was hoping you could briefly share your experience with us- was it helpful?  Any criticism?
Client: Thank you, yes I did need a tow truck and called RA. The end result was a great and quick resolution which quickly got me out of a tough spot!
It did seem like I was on hold for a long time ( long enough for a police officer to arrive and to contact another friend in case I was stranded too long). But as soon as I was connected to one of your customer service reps, everything moved quickly. Since I was on a road without a shoulder and had an officer behind, I was moved to the top priority for a tow truck leaving for another call.
I would definitely use this service again and appreciate this as a part of our policy!
Thank you,  Jennifer G.
Travelers Insurance also has some great mobile tools for insureds.  Click here for more details.

Posted in AUTO CLAIMS, AUTO INSURANCE, CLAIMS, Travelers | Leave a comment
Posted on March 19, 2014 by admin
In 2009, Ford brought its new supermini, the Fiesta, over from Europe in a brave attempt to attract the attention of young Americans. It passed out 100 of the cars to influential bloggers for a free six-month test-drive, with just one condition: document your experience online, whether you love the Fiesta or hate it.
Young bloggers loved the car. Young drivers? Not so much. After a brief burst of excitement, in which Ford sold more than 90,000 units over 18 months, Fiesta sales plummeted. As of April 2012, they were down 30 percent from 2011.
Don't blame Ford. The company is trying to solve a puzzle that's bewildering every automaker in America: How do you sell cars to Millennials (a k a Generation Y)? The fact is, today's young people simply don't drive like their predecessors did. In 2010, adults between the ages of 21 and 34 bought just 27 percent of all new vehicles sold in America, down from the peak of 38 percent in 1985. Miles driven are down, too. Even the proportion of teenagers with a license fell, by 28 percent, between 1998 and 2008.
Read More at http://www.theatlantic.com/magazine/archive/2012/09/the-cheapest-generation/309060/
Posted in AUTO INSURANCE, YOUTHFUL DRIVERS | Leave a comment
Posted on February 05, 2014 by admin
This time of year in the northeast we have to deal with winter storms which can leave significant accumulations of snow and ice.  Here are a few tips to help minimize your risk of loss.
Be prepared.  Make sure you have plenty of food, and a backup plan in case your power is out for an extended time.
Stay home if the roads are hazardous unless absolutely necessary, and use your best judgment as to whether to send your children to school even if it is open.
Clear snow and ice from walkways and sidewalks as soon as possible to prevent refreezing.  Here are some good tips for shoveling. Use ice melting products if the surfaces are wet and the temperatures are projected to drop below freezing.
Check gutters for signs of ice dams and if you can safely remove them you should do so, or call a professional.  Here are some handy tips. Make sure anyone you call can provide proof of insurance directly from their agent or broker.
Make sure any external vents for your clothes dryer or any heaters are clear of snow and ice to prevent carbon monoxide buildup.
If you have large trees, be aware that snow and ice buildup can cause branches or the tree to fall at any time and take precautions.  If there is a possibility of a large tree falling on your home, consider sleeping on the first floor or basement so you don't get injured or killed.
Please remember to check on any neighbors who may need assistance.
We often get calls during these storms about downed trees and whether there is insurance coverage for them.  Most home insurance policies do not provide any coverage for trees or landscaping, however damage from fallen trees is covered under most insurance policies- always check your policy or call us.  If a tree falls on a dwelling or structure, the cost to remove the tree from the damaged object will be covered if you submit a claim for damage.  It is always smart to assess the damage to see whether it is worth submitting a claim when you consider your deductible and any impact on premiums for the next few years.
Damage to vehicles or motorcycles from fallen trees or ice is only covered under their respective policies if you have "comprehensive" coverage.  Home insurance only covers vehicles with more than 2 wheels if they are used to service the residence premises.
Water damage is always a concern as snow and ice melts, be sure and check your basement sump pump if you have one and make sure your downspouts are clear and direct water away from your home. Water runoff that seeps into the ground and into your basement may be covered if you have water backup coverage, but surface water that enters through a window, door, or wall would only be covered with a separate flood insurance policy.
We hope you stay safe this winter, and that spring is around the corner!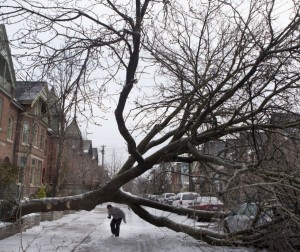 Posted in CLAIMS, HOME INSURANCE, STORM DAMAGE | Leave a comment
Posted on January 24, 2014 by admin
(courtesy of Chubb insurance)
Pause for a moment and make a mental list of the items in your home. Electronics, furnishings, art and collectibles; it's probably a fairly extensive inventory of items that are all worth protecting. If you ever need to file an insurance claim in the event of damage or theft, an actual home inventory can make the process easier. Here are some tips to get you started.
Go room by room
The Basic Way: Pick a room and make a list of everything that's in it. Use a computer spreadsheet, simply write it on a piece of paper, or download a form (the National Association of Insurance Commissioners has a good one). Each entry should include a description of the item, how many you have, the date you purchased it, where you purchased it, the original purchase price and the current estimated value. When it's relevant, record model numbers and serial numbers.
Once you're done with the list, do a walk-through with a video camera, identifying all your stuff. Alternately, take detailed pictures—including those serial numbers—and attach the photos to each room's list.
Organized Home Inventory: KnowYourStuff.org, the free home-inventory program from the Insurance Information Institute, walks you through the home-inventory process, allowing you to add rooms and view and manage your items. It also has a new iPhone and Android app that helps you quickly add necessary information.
Extra Security: If you need help to get a bit more detailed, try Asset Panda—an asset management product that tracks the entire lifecycle of your valuables. It features a helpful home inventory report that allows you to record everything from models and serial numbers to photos and video footage—even intended heir designations.
According to Rex Kurzius, Asset Panda's founder and president, what sets the service apart is this: "A modern asset inventory software must have cloud storage and access. In case of catastrophic loss it is useless to have the data stored in a PC or in a phone that can be stolen or lost." Simultaneously, he notes, mobile app availability is critical to speed up data entry and allow continuous updating. Asset Panda combines cloud storage with iOS/Android app access.
While you're doing your walk-through, consider marking valuables according to the directions ofOperation ID, a program recognized by law enforcement for 30 years. Operation ID suggests engraving or indelibly marking valuables with an identifying mark (not your Social Security number), such as your driver's license with the state abbreviation followed by the number. Example: CA-B1234567.
Collect your receipts
You may not be in the habit of keeping receipts, but here's a new reason to start: Some insurance companies may expect a proof of purchase for big-ticket items like electronics, furniture, jewelry and tools. Include in your inventory the things you don't use often—or that might be in storage—such as holiday decorations, sports equipment or tools.

Get your stuff appraised
Naturally, you won't have receipts for some things, like the emerald earrings you inherited from your grandmother, or a painting with no provenance that's been in the family for generations. An appraisal can give you insight into the fair market value of the items you treasure personally, whatever they may be. Remember, Chubb's Masterpiece® protection network can help you find a qualified appraiser. Just ask your agent or broker, or call 1-877-60CHUBB (1-877-602-4822).

Secure your inventory
Your inventory won't do much good if it's in the same house that gets ransacked, fire-damaged or flooded. That's where services like Asset Panda and Know Your Stuff come in handy. Both have cloud storage and mobile apps, but Asset Panda also includes features such as a bar code scanner, social sharing, attaching voice notes, asset history tracking and customizable import templates from Excel.
Posted in Chubb, CLAIMS, HOME INSURANCE | Leave a comment
Posted on January 21, 2014 by admin
Since most insurance brokers seldom receive the good feedback, here is a recent client testimonial about their experience with The Hartford claims:
Don,
I have the privilege of Chris Pelizari as the Claim Agent handling my recent auto accident where I was rear-ended and my car was totaled.
His first concern was for my well being and health and for that I appreciate the sentiments. He immediately started the claims process going over ever detail in depth and made sure I was cognizant of all that was required of me to expedite the claim.
He has handled and communicated in a very fast and timely manner every aspect of my claim and has responded almost instantly to emails. It is a pleasure in this day and age to find such commensurate professionals, especially in a world that often vilifies the insurance industry.
My wife and I appreciate the expediency of the claims process, the professional manner and attention to detail throughout.
I look forward to the final outcome on the claim and will get whatever additional documentation or information you require. Your team has made this a less painful process than I expected.
Thank you Chris. Thank you Don.
Best regards,
John Y.
Posted in AUTO CLAIMS, CLAIMS, Our Companies, The Hartford | Leave a comment
Posted on January 20, 2014 by admin
After living through a fire in his own house, Dave shares the lessons he learned during his experience. In this first video, he shows how a simple 9 volt battery started his house fire. Please share this message with friends and families so that they can learn to be safe with batteries.
Posted in Uncategorized | Leave a comment
Posted on January 06, 2014 by admin
During the winter months the roads are full of extra hazard from snow and ice.   But whose fault is it if you slide on snow or ice and go off the road and only damage your vehicle?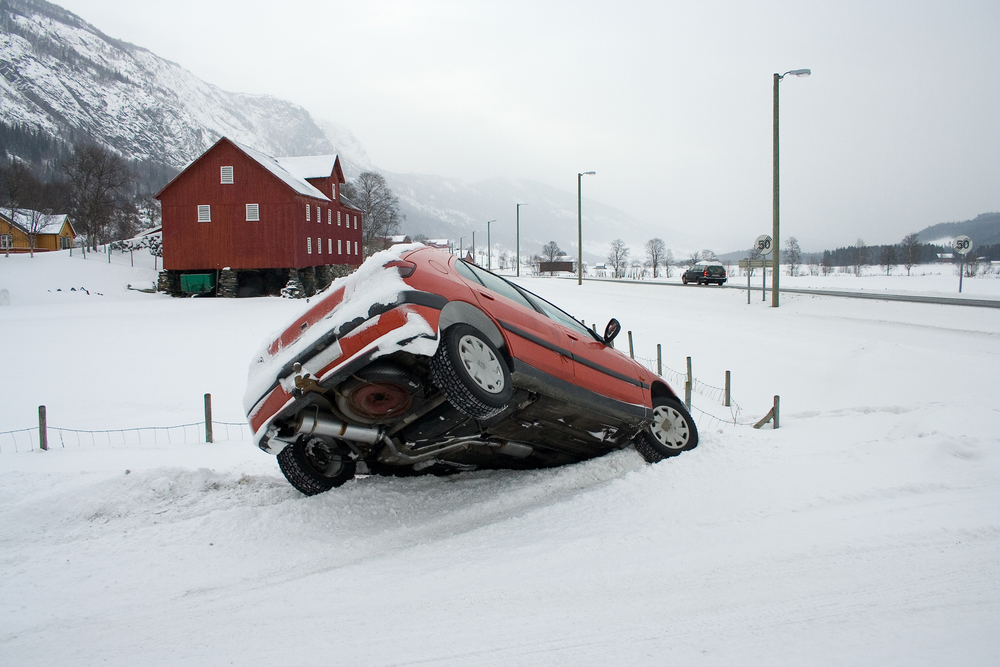 As responsible drivers we are all expected to maintain control over our vehicles, and the presence of snow or ice on the road does not change this- whether you see it or not.  If your vehicle leaves the lane of travel, the driver is responsible for this.  Any experienced insurance agent has heard more than a few times when questioning a new applicant about a claim that happened as a result of sliding on snow or ice "it wasn't my fault, I didn't see the ice". Well, it is your fault for failing to maintain control of your vehicle. An at-fault accident can impact what you pay for insurance for 3-5 years in Pennsylvania.
Please, allow extra time for trips if the roads have snow or ice, or even rain – as temperatures can dip below freezing and result in what we refer to as black ice which is almost impossible to see.   Before venturing out in poor weather, ask yourself if the trip is really that important to risk financial loss or even injury.
Check out this article from AAA for some great winter driving tips!  Be safe!
Posted in AUTO CLAIMS, AUTO INSURANCE, CLAIMS | Leave a comment