Posted on February 05, 2016 by admin
One of our clients had to visit the ER last week for treatment from CO poisoning after their furnace malfunctioned, fortunately she recovered and the rest of her family are safe. They were fortunate. According to the CDC every year more than 400 Americans die from unintentional CO poisoning not related to fires- another 20,000 visit the emergency room and 4,000 are hospitalized.
During the recent winter snowstorm there were at least 3 deaths from CO poisoning by people stranded in automobiles that ran the engine to stay warm. When travelling in winter weather have a safety kit with blankets and be aware that CO can be a factor if you remain in a running vehicle- check to ensure the tailpipe remains clear.
CO is a colorless, odorless gas produced by the incomplete burning of any carbon-containing material, including gasoline, natural gas, propane, coal or wood. CO is dangerous because it replaces oxygen in the blood and interferes with the transport of needed oxygen to cells in the body.
Travelers Insurance has some excellent tips on how to keep your family safe from this silent killer, please read about it at the following link and take steps now to ensure your family's safety!
https://www.travelers.com/resources/home/safety/how-to-prevent-carbon-monoxide-poisoning.aspx
Posted in LIFE SAFETY | Leave a comment
Posted on February 18, 2015 by admin
After a recent back injury while snow shoveling (imagine that!) I began to re-evaluate my everyday tasks with an eye for maintaining better health as I age.  I was seeing a chiropractor who had some helpful advice- being a 46 year old male who has historically been pretty healthy I was humbled by this injury which required about 2 weeks to recover from.
Working in an office and sitting for up to 8 hours a day or more, my chiropractor told me how our bodies are not designed to sit for that amount of time.  This was confirmed with some research that correlates sitting for extended time periods with leg disorders, chronic illness, a bad back, and organ damage!  A simple internet search will turn up a wealth of information on the dangers of sitting for extended periods.
So I started looking at options.  I had always tried to take frequent breaks, and drink plenty of water and eat a healthy diet with as few processed meals as possible.
The first alternative was sitting on an inflatable exercise ball, the idea being to maintain balance you strengthen your core muscles.  I bought one for $20 and it was helpful but it was too low for my desk- proper working height means your arms should be at a 90 degree angle with your lower arms flat on the desk.
I then considered a kneeling chair, but my chiropractor wasn't real keen on this and quite a few comments seemed to focus on the long term effect on the knees.  The idea behind these chairs is they help keep your back straighter because your legs are not at a 90 degree angle.
I finally settled on the idea of a standing desk!  The idea is not that standing all day is a benefit- rather more low-level physical activity will benefit your metabolism and be a key to a longer and healthier life.  In other words its just part of an overall healthy lifestyle that includes doing things differently then we did as teenagers and young adults.
Since this is a lifestyle change I decided to do it in a way that I could easily change back to a traditional desk if I wanted and not spend a lot of money trying this.  So I bought some simple materials at a home renovation store- some 2×3 framing lumber and some screw fasteners.  I figured out the optimal height of my standing desk by measuring to my elbow with a 90 bend in my arm- 14″ of increased height.  I built a simple U-shaped platform that was strong enough to support my desk using some angle braces for all directions.  I cut the wood in my garage and did the assembly right in my office, and had a friend help when it was time to lift my desk onto it (taking all the drawers out first.)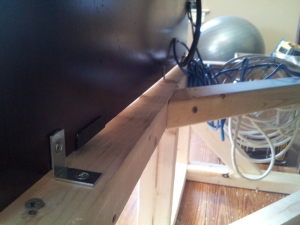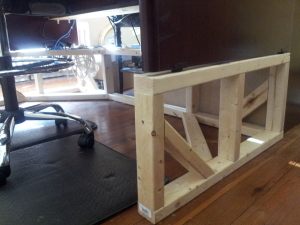 At some point I plan to stain it and finish it with some veneer to make it more attractive
I bought a new adjustable height drafting chair on Amazon Prime for less than $80 delivered.  For time spent standing I brought in 2 floor pads that we had for doing trade shows.  This was completed only a few days ago and I am getting using to the new arrangement, alternating between sitting and standing and looking forward to a new healthier chapter of my life!
How about you?  Have you tried this or other alternative ways to improve your health in your daily routine?  Leave a comment or question below!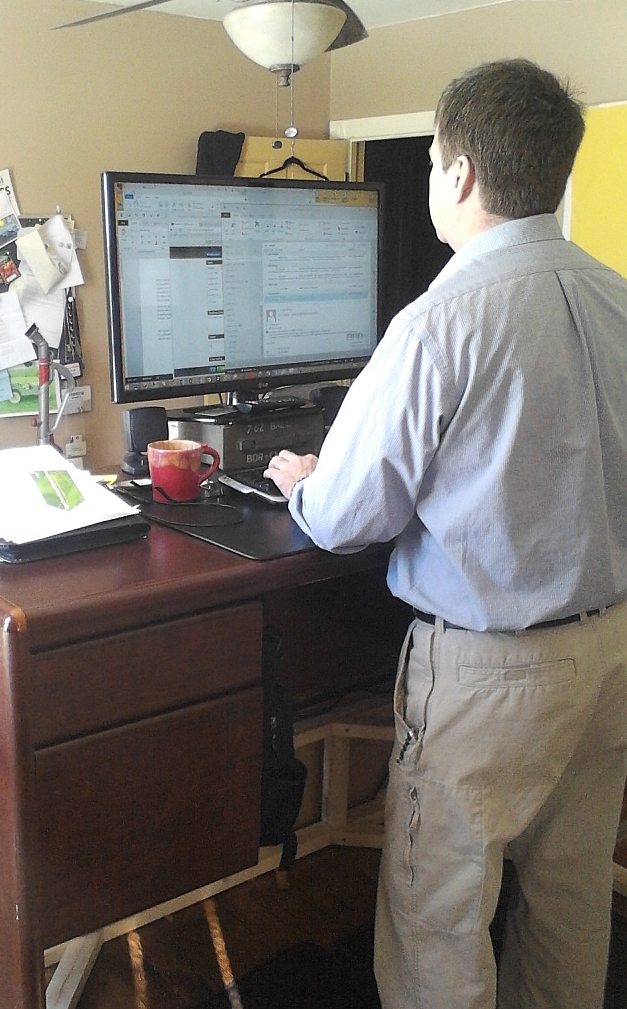 Posted in PERSONAL INSURANCE, Uncategorized | Tagged good health | Leave a comment
Posted on December 05, 2014 by admin
As we move into cold winter weather, here are a few tips to help prevent damage to your home or building:
Maintain adequate heat to avoid frozen pipes. Be especially careful with any pipes in exposed areas of your home like crawlspaces.
Know where your water shutoff valve is and that it is functioning correctly.  If you have a burst pipe it is critical to shut off the water supply ASAP to minimize damage.  If you are leaving a building for an extended time in cold weather, consider turning off the water supply and have a trusted neighbor or friend check your home regularly.
Make sure rain gutters are clear of leaves and other obstructions.  Clogged gutters can contribute to ice dams where water can be forced up under the roof and into your home causing damage that can be hidden from view.
Recognize the early signs of an ice dam and take action.  Read this excellent resource on ice dams.
If you have a basement sump pump, make sure the discharge line is clear and drains away from your foundation.
Check for and seal any cracks in your foundation where water could infiltrate.
Find more tips for preparing your home for winter weather here.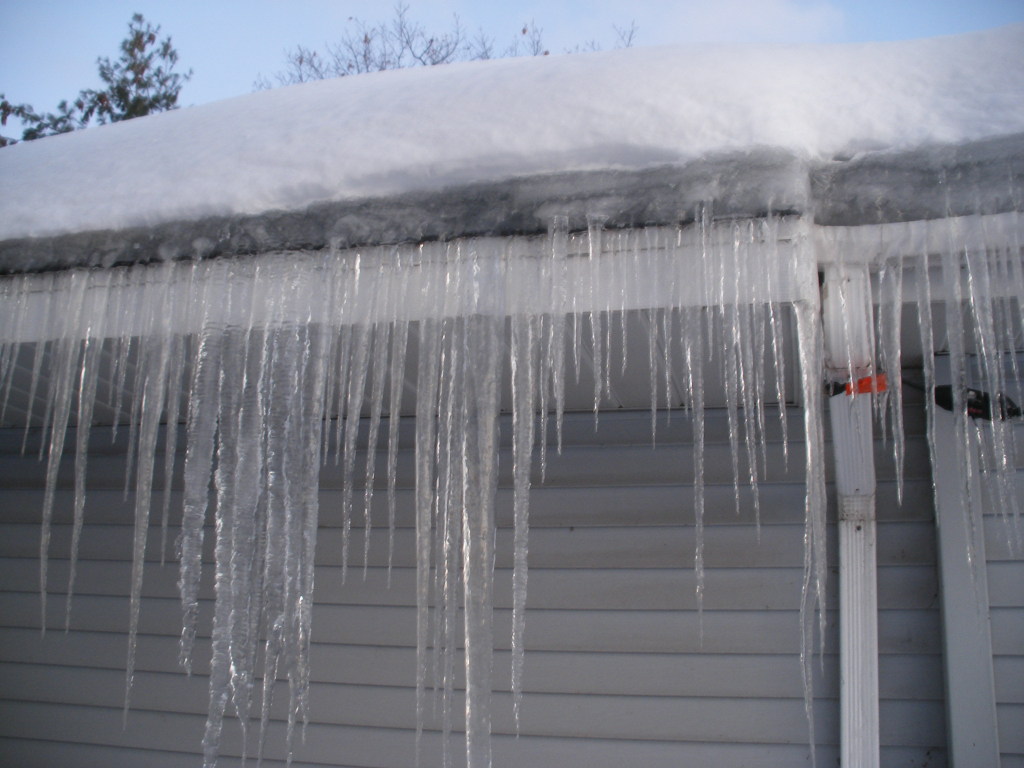 Posted in HOME INSURANCE | Leave a comment
Posted on October 27, 2014 by admin
"Ridesharing" has become the talk of the town lately, with companies like Lyft and Uber formed to connect people needing a ride with drivers.  They claim to offer a better and more cost-effective alternative to taxis, and extra income to the drivers.  They also offer their own liability insurance coverage to drivers, however in this article we will address the personal insurance policy that the typical driver carries on their own vehicle.
Ridesharing for a fee is not carpooling where a group of people agree to share a vehicle to commute back and forth to work.  It is a business where people seek to make a profit on providing other people with transportation.  Regular carpooling/shared expense commuting is usually covered under a personal auto policy.
When you make an application of insurance with a company either directly or through an agent, you make certain representations that form the basis of the insurance contract: who the regular drivers are, what the garaging address is, what type of vehicles are to be insured, and what the usage is (pleasure, commuting, etc).  These representations are important because they allow companies to match the appropriate policy (contract) to the level of risk and determine the premium that is to be paid in exchange for the company assuming the risk.
Every company has what is called "underwriting guidelines" for each type of policy that state what sort of risk they accept for a particular policy.  These can include types of vehicles, certain drivers with high accident/claim history, and certain usages.  Personal Auto Policies are designed for people who use their vehicles for commuting, pleasure and general travel over the roadways.  Some will accept a minor business usage like realtors or a carpenter who uses their truck to get tools to and from a job.
All of the companies that our agency represents have a similar underwriting guideline as noted below.
THE FOLLOWING VEHICLES ARE INELIGIBLE:
Used commercially, including but not limited to livery (for hire), rented to others, or delivery.  (Travelers)
carrying persons or property for compensation or a fee, including but not limited
to: limousine, taxi, or other livery services (does not apply to shared-expense car
pools) or the pickup or delivery of magazines, newspapers, food, or any other
products;   (Progressive)
They both seem to make a usage like Lyft or Uber an ineligible use, and therefore would not offer an insurance policy if a disclosure was made that the car was being used for this purpose.   "Material misrepresentation" is a misstatement to a question asked during the application process that is so important that, had the truth been known, the insurance company would not have issued the policy or would have issued it with a higher premium.  Material misrepresentation is a breach of the insurance contract, which means that the company can declare the policy null and void and avoid paying damages for a claim.  It can also result in the applicant being charged with a criminal crime of insurance fraud which if found guilty can result in the applicant being put in a cage.
Lyft/Uber drivers should also review their policy for exclusions on coverage, here are 2 for bodily injury and they typically also exclude coverage for damage to the vehicle.
Travelers: Exclusions: we do not provide coverage for any "insured": for that insureds liability arising out of the ownership or operation of a vehicle while it is being used as a public or livery conveyance.
Progressive:  EXCLUSIONS—READ THE FOLLOWING EXCLUSIONS CAREFULLY. IF AN EXCLUSION
APPLIES, COVERAGE WILL NOT BE AFFORDED UNDER THIS PART I.
Coverage under this Part I, including our duty to defend, will not apply to any insured
person for:
1. bodily injury or property damage arising out of the ownership, maintenance or
use of any vehicle or trailer while being used:
a. to carry persons or property for compensation or a fee; or
b. for retail or wholesale delivery, including, but not limited to, the pickup, transport
or delivery of magazines, newspapers, mail or food.
This exclusion does not apply to shared-expense car pools;
To distill all this information down, here is the warning for Lyft/Uber drivers:  review your own policy carefully and consult an attorney for legal advice.  Be aware that your personal auto policy insurer will likely not only not pay for any claims resulting from an incident while engaged in carrying passengers for a fee- but may also initiate criminal charges of insurance fraud which carry penalties of fines and imprisonment. At a minimum they will cancel your policy and you will have difficulty obtaining new insurance likely with a higher cost.
Ridesharing companies may have a $1,000,000 insurance policy to cover your legal liability for an accident and they claim up to $50,000 in coverage for damage to your vehicle- but be aware of the potential action that you could face from your own insurance company.

Nothing in this post is intended as or should be construed as legal advice.
Posted in Uncategorized | Leave a comment
Posted on October 11, 2014 by admin
Oh no!  You've just been in a vehicle collision- what should you do?  Accidents are unexpected and stressful.
Be Prepared- carry road flares, a first aid kit, pen & notepad and a camera in all your vehicles.
First- take a deep breath and do not panic, check for injuries from any involved party and treat those first.  Call 911.
If the vehicles are able to be moved to the side of the road for safety purposes then do it.  Make the scene as safe as possible for all involved. Use your hazard lights or flares.
If there are any witnesses, get their information.  A 3rd party witness is the strongest piece of evidence you can have if the accident is not your fault.  Call the police even if the accident is minor.
DO NOT DISCUSS the accident with anyone other than police if they respond and NEVER ADMIT FAULT.  Document as much as possible of the damage to vehicles and the surrounding area.   Take notes and photos/video with a camera or smartphone.
Notify your insurance agent or company immediately.
Posted in Uncategorized | Leave a comment
Posted on October 09, 2014 by admin
Do you have State Farm for your home insurance in Pennsylvania or know anyone who does? You may be unaware of a sneaky change they are making to your home insurance policy on the renewal unless you look closely!
They are increasing your deductible to 1.5% of your dwelling coverage, and offering the option to buyback your existing deductible. This is noted on your renewal bill on the bottom left-hand side in a small paragraph and many people are probably not catching it!  Especially if your policy is billed to your mortgagee- you could be in for quite a surprise if you have a claim and end up with a higher deductible than what you initially agreed on when you signed the original contract!
Call us today at 215-340-1888 or email now for a Free review and quote of your State Farm policy, we will shop your policy with 9 national carriers and keep your deductible where it is now!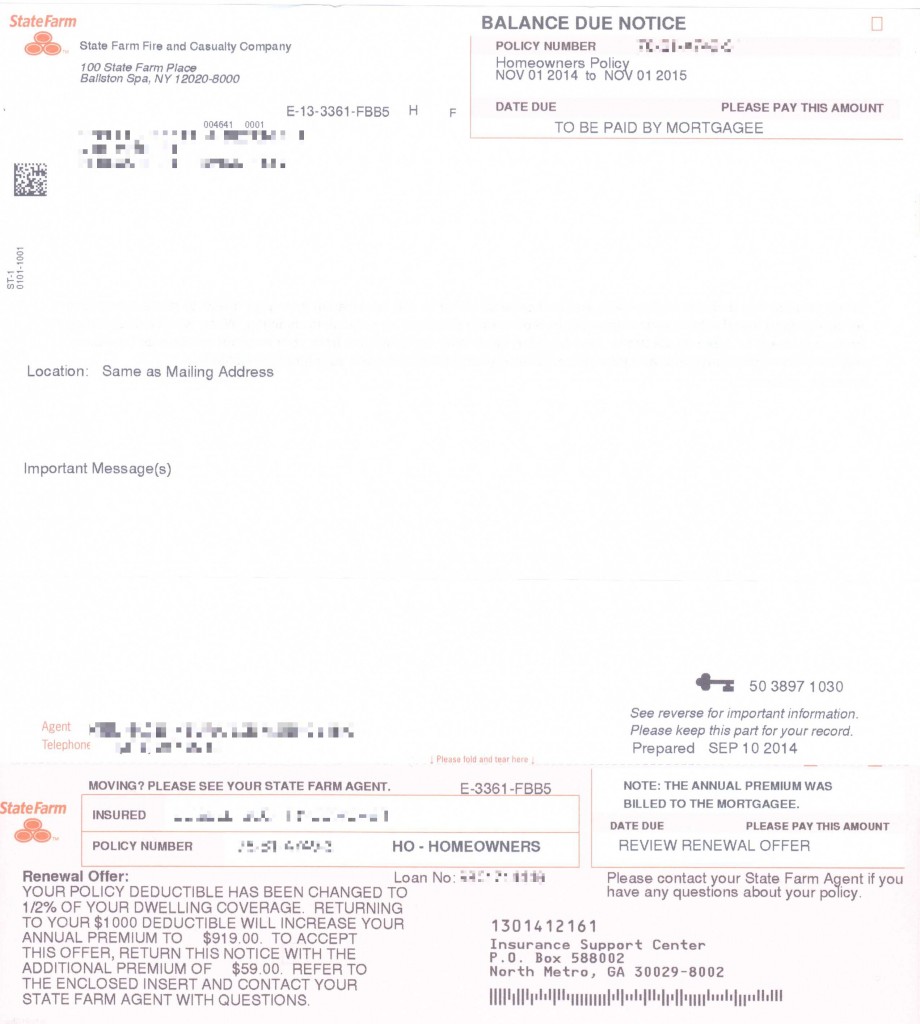 Posted in HOME INSURANCE | Tagged home insurance | Leave a comment
Posted on September 25, 2014 by admin
We consider it an important part of our role as our insureds agent to guide them through the claims process should they ever be in that situation.  A little guidance early in the process can make a world of difference in the outcome for our clients.
When our agency gets a call about a possible minor claim- either a small auto collision, damage to home, etc- one of our first recommendations is to try to assess the actual dollar value of the damage and compare it to the policy deductible assuming it is a covered loss.
If your deductible is $500 and the damage is assessed at $550 it is probably not in your best interest to file the claim to recover $50 and face higher insurance costs for the next 3-5 years that will likely exceed that amount.  What if the damage was $750?  $900? $1,000?  At what point do you decide to file a claim?
In years past it was possible to look at a particular policy and give an estimate of what the dollar impact of a claim would be- be it losing discounts or having a surcharge.  However as insurance companies  develop more complex rating platforms in an effort to come up with rates that more accurately reflect the risk- an unfortunate side effect is that it is becoming increasingly harder to determine the effect of a claim and in many cases even the companies themselves admit it is impossible to gauge the financial effect of a claim.
This extends to automobile comprehensive claims as well- which in the past would not affect the current policy or the ability or cost to purchase new insurance.  This is because companies now utlilize multi-level or tiered rating platforms.  A single comprehensive claim can result in a higher tier and therefore higher cost.
Another consideration in the case of a home insurance claim, if you decide to buy a new house a claim can affect both your buyer's ability to get home insurance and also the cost of insurance for your new home.  So if you are planning on moving in the near future that may present another variable on a decision to file a claim.
Our advice remains to discuss small claims with your insurance agent and make an informed decision on whether or not to file a small property claim.  Please call us at 215-340-1888 for a free no-obligation review of your insurance policies.
Posted in CLAIMS | Tagged claims | Leave a comment
Posted on August 26, 2014 by admin
According to the Insurance Information Institute- dog bite claims nationwide accounted for more than 1/3 of home insurance liability claims in 2013 with an average cost of almost $28,000.  Pennsylvania ranks 5th in the nation with 909 dog bite claims averaging over $29,000 each and a total impact of $26.4 million.  Most homeowners, renters, and landlord policies cover liability from a dog bite- consult your policy for any exceptions.
Are you liable for damage or injury when your dog bites someone?  In Pennsylvania the answer is definitively YES- state statute reads as follows:
§ 532. How damages recovered- The owner or owners of any dog or dogs shall be liable for all damages done or caused to be done by any and every such dog or dogs, in an action of trespass vi et armis, in the name of the person or persons injured, to be sued for and recovered before any court or justice of the peace having jurisdiction of the amount so claimed.
Tips to avoid dog bite liability claims:
Choose a breed suitable for your circumstances, train and socialize the dog properly to a variety of situations.  Consider consulting a professional before choosing and breed and also for training- and definitely if your dog displays aggressiveness or other undesirable behaviors!
Take extraordinary care with children- teach yours to never approach a strange dog or surprise any dog including your own.  Many dog bites occur to small children in the facial area as a result of teasing or bothering a dog. Be cautious when walking your dog in public for children who may not have been properly taught to ask the owner for permission to approach. Never leave a young child alone with a dog.
Have your dog spayed or neutered if you do not intend on breeding, studies show that dogs are 3x more likely to bite if they are not neutered.
Make sure your dog is kept under your control at all times! Leashes, tethers, fences, and invisible fences are all options.  Pennsylvania state statute requires dogs be under the owners control at all times, and many local communities have enacted "leash laws" in addition.
THIS IS NOT LEGAL ADVICE. If your dog bites someone should you file an insurance claim? As with any claim we encourage clients to think about the possible outcomes before making a knee-jerk response, claims should be made as soon as possible but there is no time requirement to file a claim. Try to ascertain what the damages are, speak with injured party and try to negotiate a favorable outcome for both parties.  If it looks like a serious injury you should contact your insurance company as soon as possible.  Keep in contact with the other party unless they retain a lawyer- at which point you should notify your insurance carrier immediately.
If it becomes an insurance claim here are the likely outcomes:
Your insurance company will require you to sign a waiver of future liability coverage involving the dog.
Your insurance company will drop your coverage as long as you continue to keep the dog.  This is the more likely scenario, and you will find it next to impossible to obtain new coverage with a dog that has bitten before. If you do find a new policy it will likely exclude liability coverage.
Do everything you can to avoid a dog bite liability claim, as it will likely come down to losing either your dog or your insurance!  If you are in Pennsylvania please contact us for a no-obligation free consultation at 215-340-1888 or andy@rafraser.com
What if you are the victim of a dog bite? Obviously the first thing to do if a dog bite happens to you or your animals is to seek medical treatment.   You should document everything that happened as soon as possible- take photos of injuries and write everything down that you can remember.  If the injury is minor, owner of the attacking dog shows concern and pays for any treatment it is up to you to decide what other action to take.  Here are some other options to consider based upon the circumstances (THIS IS NOT LEGAL ADVICE):
Call the police and have them document the incident, they may file charges against the owner depending on the circumstances.
Ask the owner for their information including insurance company and policy number.  You may have to resort to #1 to get this.
Avoiding dog bites: Never approach a strange dog, and if one approaches you do not make direct eye contact as this can be perceived by the dog as an act of aggression. Do not run from a dog chasing you, stand your ground If you encounter a dogfight and choose to try and help, the best way to separate fighting dogs is to have someone grab the back legs of each and pull them apart- never grab for the collars as this is a sure way to get bitten.  Read more terrific advice here by renowned animal behavior specialist Cesar Milan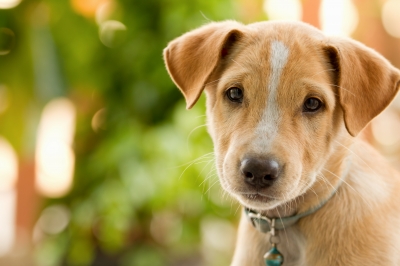 Posted in CLAIMS, HOME INSURANCE, LIABILITY CLAIMS, Uncategorized | Leave a comment
Posted on June 10, 2014 by admin
Renting your home to others can be a smart financial decision, but make sure to consider the insurance ramifications and liability issues involved.
If you live in a home and then rent it to others, you will need to replace your homeowners policy with a Dwelling Fire policy (Landlord policy).  This addresses the difference in risk associated with a person living in a dwelling who has no financial interest and covers only the building and liability of owner with no coverage for tenant contents.  It will also provide coverage for Loss of Rental Income should a claim leave the home inhabitable for a period of time.  Failing to change a homeowners policy to the Dwelling Fire policy could present problems during a claim and may even result in coverage being denied.
Your tenants should be advised in writing to obtain their own insurance to cover their contents and liability, commonly referred to as a renters or tenants insurance policy.  Not only will this cover their personal property and some liability protection, it will also give them coverage for additional living expenses if they are forced to live elsewhere because of damage to the home. The liability portion of their policy will provide a "first line of defense" against any potential slip and fall claims or accidents caused by tenant negligence. Many standard leases include this and depending on state laws you can require this as a condition in the lease.
Finding a good tenant is the most important part of being a landlord, when you find a good one that cares for your property and pays their rent on time- reward them with a Thanksgiving turkey or something nice during the holidays.  Some more tips for finding a good tenant:
Conduct credit and criminal background checks and request two references before leasing to a new renter. The renter's current landlord may not be the best reference, as they may have unknown motives, so make sure to dig deeper.
Make a visit to the potential tenants current home if possible, this will give you an idea of what sort of tenant they are.  If you don't allow pets carry a dog whistle and give it a discreet blow as this will alert you to any hidden dogs.
Don't rely on a potential renter's pay stub. Call the employer directly to confirm they work there.
Include renters insurance in the lease and request a copy of the tenant's insurance.
Regular and thorough inspections inside and out should be conducted at least every six months.
When you are preparing your home for your next renter, make sure all doors and windows are locked to prevent vandalism. It's also a good idea to change locks between tenants- this is just a cost of doing business.
Maintain the home so it's always in good condition to avoid potential hazards.
Do your homework and take the time to select responsible and highly recommended tenants. Completing this step will save time and money.
Posted in HOME INSURANCE, LANDLORD INSURANCE, PERSONAL INSURANCE | Leave a comment
Posted on May 17, 2014 by admin
Let's Keep Our Lawns – and Ourselves – Safe in Pennsylvania
For many of our neighbors in Bucks, Montgomery, and other counties- summer means more than sunshine and vacations. It also means working in the yard – often with tools that can be dangerous if not used properly.
Each year about 400,000 people are treated for injuries from lawn and garden tools, according to the U.S. Consumer Product Safety Commission (CPSC). Don't let your landscaping efforts land you in the hospital! Follow these handy safety tips.
Tool safety tips from the U.S. CPSC
Dress appropriately. To protect yourself from debris when using lawn tools, wear eye protection, long pants, long-sleeved shirts, close-fitting clothes and no jewelry. Sturdy shoes are recommended, and ear plugs may be appropriate depending on how loud the device is.
Before starting, remove objects from your work area that could cause injury or damage, such as sticks, glass or stones.
Keep children indoors and supervised at all times when any outdoor power equipment is being used. Never let a child ride or operate a garden tractor or riding mower, even if the child is supervised. And never assume children will remain where you last saw them.
Use extreme caution when backing up or approaching corners, shrubs and trees.
Teenagers using power equipment should always be supervised by an adult.
Handle gasoline carefully. Never fill tanks while machinery is on or when equipment is still hot. Of course, you should never smoke or use any type of flame around gasoline or any gasoline-powered equipment.
Do not work with electric power tools in wet or damp conditions. For protection against electrocution, use a ground fault circuit interrupter (GFCI).
Be sure that extension cords are in good condition, are rated for outdoor use, and are the proper gauge for the electrical current capacity of the tool.
Lawn Chemical Safety Tips from Texas A&M University
If you use chemicals to control weeds or pests in your lawn, read the product label carefully so you understand the potential effects on humans, animals and the environment. Follow all instructions.
Keep children and animals away from the application area, and protect your skin, eyes and nose during and after application.
Remember, use only the recommended amount. Using more of the chemical will not do a better job.
Ask yourself if you truly need to use a general pesticide. Is there a product that will specifically treat only the problem you need to solve?
From all of us at the RA Fraser Agency, here's to keeping both you and your lawn healthy this summer!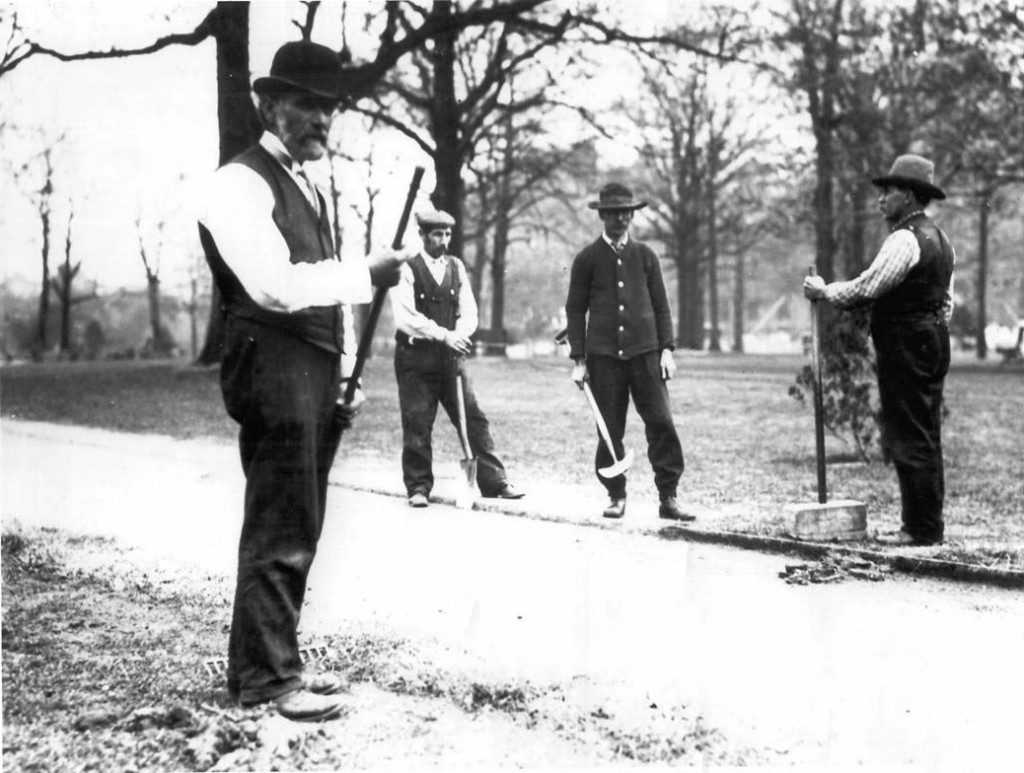 Posted in HOME INSURANCE | Tagged home | Leave a comment