After a recent back injury while snow shoveling (imagine that!) I began to re-evaluate my everyday tasks with an eye for maintaining better health as I age.  I was seeing a chiropractor who had some helpful advice- being a 46 year old male who has historically been pretty healthy I was humbled by this injury which required about 2 weeks to recover from.
Working in an office and sitting for up to 8 hours a day or more, my chiropractor told me how our bodies are not designed to sit for that amount of time.  This was confirmed with some research that correlates sitting for extended time periods with leg disorders, chronic illness, a bad back, and organ damage!  A simple internet search will turn up a wealth of information on the dangers of sitting for extended periods.
So I started looking at options.  I had always tried to take frequent breaks, and drink plenty of water and eat a healthy diet with as few processed meals as possible.
The first alternative was sitting on an inflatable exercise ball, the idea being to maintain balance you strengthen your core muscles.  I bought one for $20 and it was helpful but it was too low for my desk- proper working height means your arms should be at a 90 degree angle with your lower arms flat on the desk.
I then considered a kneeling chair, but my chiropractor wasn't real keen on this and quite a few comments seemed to focus on the long term effect on the knees.  The idea behind these chairs is they help keep your back straighter because your legs are not at a 90 degree angle.
I finally settled on the idea of a standing desk!  The idea is not that standing all day is a benefit- rather more low-level physical activity will benefit your metabolism and be a key to a longer and healthier life.  In other words its just part of an overall healthy lifestyle that includes doing things differently then we did as teenagers and young adults.
Since this is a lifestyle change I decided to do it in a way that I could easily change back to a traditional desk if I wanted and not spend a lot of money trying this.  So I bought some simple materials at a home renovation store- some 2×3 framing lumber and some screw fasteners.  I figured out the optimal height of my standing desk by measuring to my elbow with a 90 bend in my arm- 14″ of increased height.  I built a simple U-shaped platform that was strong enough to support my desk using some angle braces for all directions.  I cut the wood in my garage and did the assembly right in my office, and had a friend help when it was time to lift my desk onto it (taking all the drawers out first.)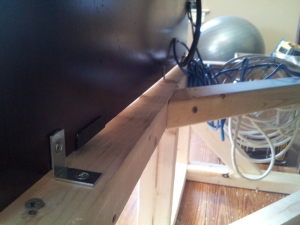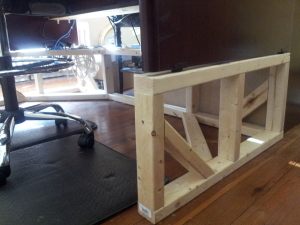 At some point I plan to stain it and finish it with some veneer to make it more attractive
I bought a new adjustable height drafting chair on Amazon Prime for less than $80 delivered.  For time spent standing I brought in 2 floor pads that we had for doing trade shows.  This was completed only a few days ago and I am getting using to the new arrangement, alternating between sitting and standing and looking forward to a new healthier chapter of my life!
How about you?  Have you tried this or other alternative ways to improve your health in your daily routine?  Leave a comment or question below!